A few days ago I went through the old family albums. It was such a nice experience! I really appreciate how many photos my parents took from the time they met. I don't remember many things from my childhood, but one look at the familiar place can bring so many emotions!
My family albums contain different things. There are the classics, of course - every parent has had a period when they took photos of their beautiful, naked newborn. Photos of all kinds of events in the Catholic Church? Check! I always laugh when I see my parents partying - everyone is drunk, half-naked and has those empty eyes after drinking too much vodka.
I thought nothing would surprise me, but then I came across a photo of my dad showing me a toadstool. It perfectly fitted a meme template that was quite popular in Poland a few years ago. I went to my 19-year-old brother and asked him to add the text "Look, son, this is a toadstool". I thought there was only one way to approach such a task - by using a large white font with black borders, vertically aligned and at the bottom of the image. This format was quite popular when I was young, and the poker face meme was in its glory.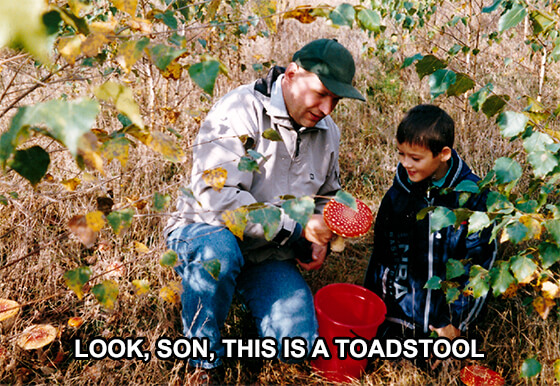 My take on the meme format
My brother took a different approach. His understanding of this type of meme was more precise. He used a small, unobtrusive font. The string was broken into two lines and placed somewhere near the right edge. I was thinking like a millennial, whereas his type of humour is more Gen Z. This experience really opened my eyes to how differently people of all ages see the world around them.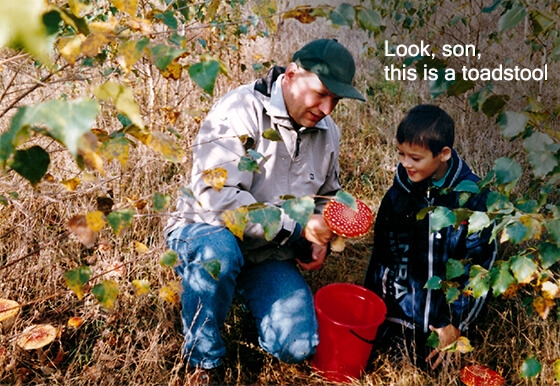 My brother's take on the meme format
It also coincided with my reading of The Psychology of Money by Morgan Housel. Early in the book, he recalls a statistic that poor people are far more likely to invest in lottery tickets than rich people. Individuals with more wealth tend to look down on such irrational behaviour - the obvious conclusion that comes to mind is: perhaps the reason for their poverty is due to unwise management of funds? It's easy to make that assumption when you have a car, your family doesn't go hungry once in a while, and you have hot water in your bathroom. But what's their perspective? A lottery ticket is their only chance to experience what the rich have. There are places in this world where you can't avoid spending your whole life in poverty. And at the same time, the world today shows the trinkets of consumerism at every turn. Hot women in skimpy bikinis, fast cars speeding through beautiful landscapes, and a whole range of electrical gadgets that will surely "change your life". It is easy to fall into such a trap, especially when your only chance of a decent life is a blind lottery ticket.